Pricing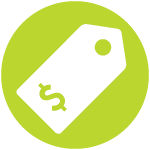 Sales drive revenues but it is the pricing that drives profits!
With the flexibility of FreshByte Software's pricing module, you can rapidly manage and maximize your pricing by customer, by item. This means improved functionality – and the potential for increased profit goes up.
With FreshByte Software's pricing module, you have an almost unlimited number of price levels with both current and future price list capabilities by: Customer Item and Unit-of-measure, which means that your customer can place an order today for delivery tomorrow and tomorrow's prices will be quoted, but if the same customer places an order for delivery in three days' time, the price quoted will be that day's price.
FreshByte Software also provides you and your team with bid pricing, SRP and price override capabilities, as well as rebate and bill-back modules. Price lists can be printed out by customer by time period and can be customized to include item descriptions by customer, as well as photographs of each item.