Receiving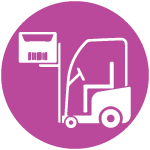 After a PO is created in FreshByte Software, one or more labels, each with or without the relevant product bar-codes, can be printed for each pallet to be received. When the product is received into your warehouse, these pre-printed labels can be affixed to each pallet for future identification and traceability purposes.
Individual bar-coded case labels can also be printed; however since it is not usually feasible to affix these two cases at time of receiving, they can be stored in a pouch and then stuck onto each case at time of picking for a customer.
After the product has been received, the quantity received information will automatically populate the relevant POs – thus eliminating the need to re-key data. If any necessary item changes are needed, they can then be made in the receiving screen, after which time the relevant inventory, payables and general ledger transactions are automatically posted into FreshByte Software.