EDI for A/P and A/R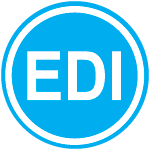 Import and Export Orders Between Different Software Systems.
FreshByte Software offers EDI (Electronic Data Interchange) for Accounts Payable and Accounts Receivable. EDI allows the exchange of business documents like Purchase Orders and Acknowledgments, Invoices, and Price Catalogs between computer systems. This benefits companies by improving order fulfillment, accuracy, and reducing overhead costs.
Accuracy: Data quality will be improved with at least a 30-40% reduction in errors.
Cost Reduction: EDI will reduce or eliminate paper reproduction, storage, postage, and document retrieval.
Efficiency: Quick processing of accurate business documents leads to less re-working orders, fewer stock outs, and fewer cancelled orders.
Mapping: is an important feature of EDI because it creates unity between partners.
This module fits into FreshByte Software's core system and allows users to manage how orders are brought and managed through EDI for the entire product lifecycle. Click the download button to the right to read FreshByte Software's white paper, EDI for Business Success in Food Distribution.