Staying on your projected growth pattern for 2022 means identifying the latest food service software industry trends. After all, tech is where it is at in terms of getting customers the food choices they want when they want it. A couple of new trends are especially beneficial to businesses of all sizes right now. Check out how online food delivery and ghost kitchens are increasing growth for businesses in the food service industry.
Online Food Delivery Jumps 10 Percent
Markets offering online food ordering and delivery services worldwide increased in sales by 10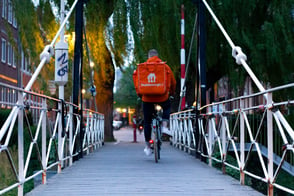 percent from 2020 to 2021. This comes from $152 billion in food delivery sales for 2021, showing a strong hold on the restaurant and food service industries. How can businesses improve in an already robust market? Global online food delivery providers need to improve communication between food vendors and users of these services. However, it also pays to understand what's selling the fastest and which delivery services are rated highest in this market.
QSR Magazine reports that there are currently 16 prevalent aggregator platforms in the US; these are the five top rated delivery providers:
DoorDash
GrubHub
EatStreet
BiteSquad
OrangeCrate
These providers are the most often used by restaurants. The services that get the highest customer ratings are DoorDash, GrubHub, Postmates, and Uber Eats. Of the top 20 regional cuisines ordered by customers, the leaders are:
American (47.9 percent)
Italian (14.4 percent)
Mexican (11 percent)
Japanese (7 percent)
The next three most popular cuisines ordered online are Chinese, Mediterranean, and Thai— with Creole, Hawaiian, and Southwestern rounding up the list at 1.1 percent or less each. Use this information to help guide your delivery decisions as a restaurant owner. If you sell burgers delivered by DoorDash, you stand a far better chance of success in the coming year compared to someone serving Hawaiian poke using chomp, which is No. 16 on the list of platforms.
Google Grabs an (Even Bigger) Share of the Market
Ordering will be much easier in the coming year as Google reveals more ways to order online faster. Restaurants will be able to provide ordering directly through them using Google Search, Google Pay, Google Maps, and other Google software. The goal will be increasing the digital footprint and connectivity of Google's Internet of Things (IoT). Projected growth for Google and SEO is 65 percent thanks to direct online food ordering via restaurants using Google products.
Getting on Board With Ghost Kitchens
Call it a ghost kitchen, a ghost restaurant, or a dark kitchen, but there seems to be a solid solution for how to keep restaurants afloat as dining in-house continues to be sparse due to the pandemic. According to the Institute of Culinary Education, a ghost kitchen serves as a place to prepare and/or cook meals that are then delivered to customers at another location. This delivery takes place through third party services, such as DoorDash or UberEats. Sometimes the restaurant will hire the services of a company as a private delivery provider.
A ghost kitchen is a revolving new way of thinking about how to use a commercial space that is no longer accepting visitors. By providing a ghost kitchen service by way of delivery, customers still eat the food regardless if they can dine in. At the same time, restaurants can stay operational since staff costs are reduced, but so are waitstaff jobs. Also, customers are removed from the in-house dining experience, which is to the detriment of most restaurants and their brand.
All the same, ghost kitchens are popping up like crazy at a rate of 185 percent in 2021. The UK, US, and India are forerunners of ghost kitchens, which were spurred by the COVID-19 pandemic that left commercial restaurants and kitchens sitting without diners and a reduced cash flow.
To find out more about new software to improve your business, contact Fresh Byte Software today.